Bucking Convention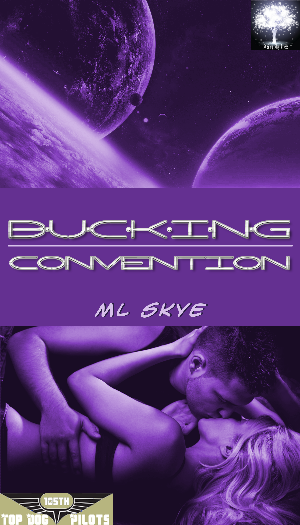 $2.99 | Click Image for Buy Link
Series Tagline: Two top pilots, Max Cutter and Maggie Harper, like to mix a little personal with their professional life.
Book Tagline: A tragic loss puts Cutter on the edge and it's up to Maggie to pull him back.
Series Blurb: Two ace pilots at the top of their game, Max 'Ripper' Cutter and Maggie 'Magpie' Harper traverse space and navigate a relationship at the same time. Follow their adventures through Hell Week, an unexpected tragedy, and a nightmare dinner party with steamy results.
Book Blurb: Max and Maggie survive Hell Week and start a relationship that works. Tragedy strikes Cutter's wingman and when Maggie shows up as the replacement, she discovers a very different Max. Not a good thing when he lives to fly… and can't.
Maggie wants to support Max and help get him back on an even keel, but living and working with him tests her patience and mettle. It's so much easier to handle two tons of space craft than a surly man.
Excerpt:
Captain Maggie Harper blew out a deep breath, flipping the folder in her lap closed. She didn't want to read any more details about the explosion that took the life of a fellow pilot. One she was en route to replace on the roster.
It sucked to step in when a comrade was lost. Worse, when you were personally involved in the fallout.
And it didn't get any more personal for her.
She happened to be replacing Max Cutter's wingman.
Max.
Her heart tripped a little. It could have been Max's ship. The prayer of thanks she sent out might be rude, but so be it. Maggie wouldn't apologize for being happy or relieved Cutter didn't die in a freak accident.
They had a good thing going and she wanted to keep it that way.
Six months and no signs of slowing down.
Maggie smiled. Their interesting Hell Week interlude proved to be just the thing they needed to get through that particular bit of the insanity. But they'd stumbled a little after they survived and danced around the idea of letting the sex remain a one-time thing.
Okay, she danced around it. The fear of losing Max as a friend almost won out, regardless of the really great sex.
Almost.
~*~