A Magical Affair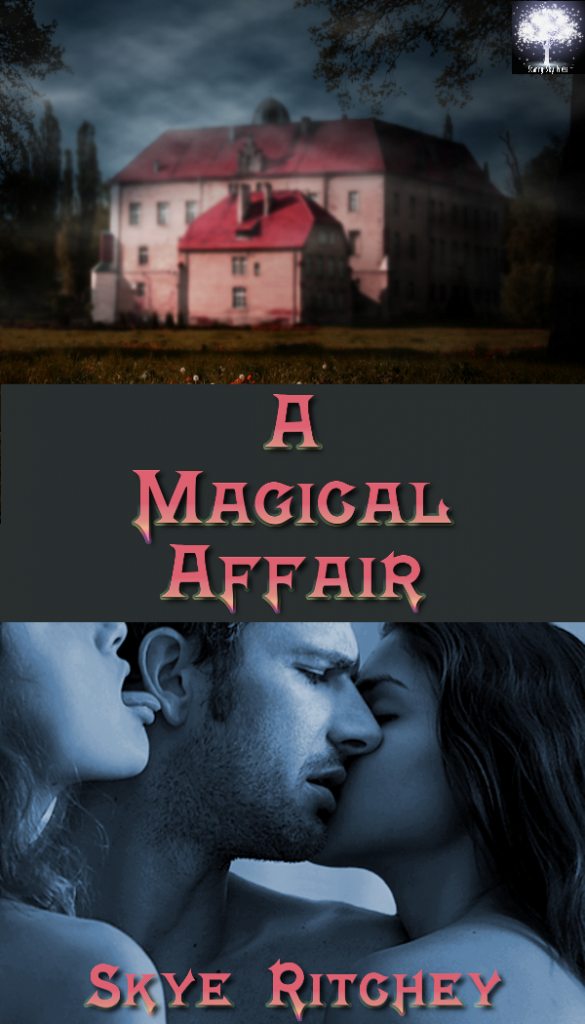 $3.99 | Click Image for Buy Link
Tagline:
A mansion sitting atop an ancient wellspring of magic offers Romy, Heath, and Stacie the chance to live out all their lustful fantasies. Heath is thrilled for the opportunity, but he wants one thing above all—for Romy to give up control and let him call the shots.
Blurb:
Romy Bludd and Heath Graystone are very adventurous and happily explore the wilder side of sex. Romy meets Jarvin and Vivica, who give her an opportunity to spend Halloween weekend at Magic Meadows, a mansion sitting atop an ancient wellspring of magic. Romy accepts the offer because she and Heath want to add someone else to the mix and Romy's best friend, Stacie, is back from a ten month stay abroad. The timing couldn't be better for the trio to live out their lustful fantasies.
The mansion and its owners are capable of wondrous transformations, giving Romy and Stacie a wealth of choices to rock Heath's world. A character from his favorite urban thriller, a cougar on the prowl, the plain librarian who wants to hook up with her boss, a roller derby diva with aggression issues, and a reporting duo with blackmail on their minds are on the agenda for the romp-filled weekend.
Heath is thrilled, but he really wants one thing—for Romy to give up control and let him call the shots.
Excerpt:
"You're sure about this?" Stacie Williams plopped down beside Romy Bludd. "Our friendship is more important than me having a weekend of super-hot sex with an awesome guy like Heath."
Romy smiled. "Stace, I'm okay because you're my best friend. Heath and I've had this fantasy for two years, and I had issues with bringing someone else in and not being able to control everything." She paused. "But I know you almost better than I know myself. You won't go over-the-top stalker, and you're not harboring any deep, unrequited love for Heath. You just appreciate his hard body and screaming good looks." Kicking her feet up onto the table, she shrugged. "You're not in a relationship at the moment, so no awkward trying to explain why you're traipsing off to a magical mansion for a Halloween weekend tryst—and don't want company."
Stacie grinned. "You're lucky I'm at loose ends and haven't had time to do more than look for a hookup." She propped her feet beside Romy's.
Romy frowned. "I can't believe you were gone for ten months. I missed you." She nudged Stacie's shoulder. "You're never allowed to take off for training abroad again."
Stacie laughed. "Think of it this way, you and Heath had plenty of time to work the kinks out and look at you now." She turned and faced Romy. "Rock solid and happier than I've ever seen you."
Romy shrugged. "He's everything I've ever wanted. It's scary good between us."
"Hence the crazy-ass weekend you have planned." Stacie tilted her head to the side. "Where did you find this place anyway?"
Romy's lips curved. "I got an invite from the owners when I went to inspect the place for their ad layout. We'll be their first trial run."
Stacie leaned in close. "And the magic? Do you think they can really create everything you want?"
Romy nodded. "Oh, yes. I really do."
Stacie shuddered. "God, I can't wait."
"Me either. How perfect, right? Halloween. Costumes, role-playing, and an entire wing all to ourselves." Romy grabbed a notebook from the table. "So help me come up with the best and kinkiest ideas to make this weekend a mind-blowing one for Heath."
~*~